Medical Kits/Bags

Fla_Medic
at Plan For Pandemic
http://planforpandemic.com/posting.php? ... te&p=21029
FLA_MEDIC's FIRST AID/TRAUMA KIT
Everyone should have a good medical bag. The store bought plastic ones are both overpriced and pretty much useless for more than a cut or a scrape. Granted, my kit contains some items that a layman might not wish to include, but I thought a tour of my kit might provide some ideas to all of you of things you can do to make your own. First, you need a proper container for your first aid supplies. I bought this duffle bag at Big Lots for 9.99. The old and faded paramedic patch, I added.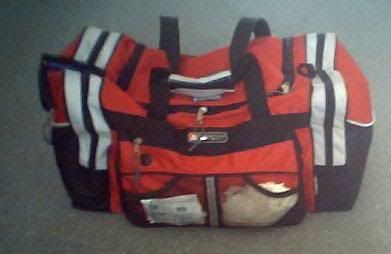 This particular duffle bag has hand and shoulder straps, two webbed pouches on the front, a zippered pouch behind that, a zippered compartment on each end, and a cavernous center compartment. The top slouches inward a bit because I've left room for a few goodies I'll be adding in the future. Starting with the front webbed pouches, I keep several pairs of latex gloves, alcohol wipes, a notepad and a pen. Behind the webbed pouches, I keep an assortment of items. Small stuff that I go for frequently, and don't wish to rummage thru the bigger compartments for. Spare gloves, a multi-tool, alcohol gel hand sanitizer, spare alcohol pads, a digital thermometer, and a pouch of sports drink. I have couple more of those stashed away under meds in another compartment.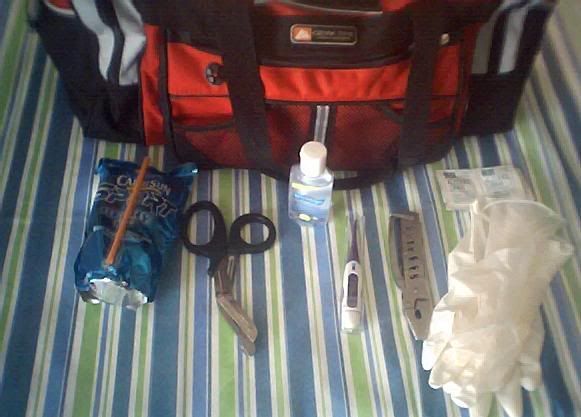 The Center compartment is where I keep my ambu-bag, airways, Stethescope, C-collar, B/P cuff, N95 masks, and goggles. These are bulky items, and need to be readily accessible. I also keep a suture set in there.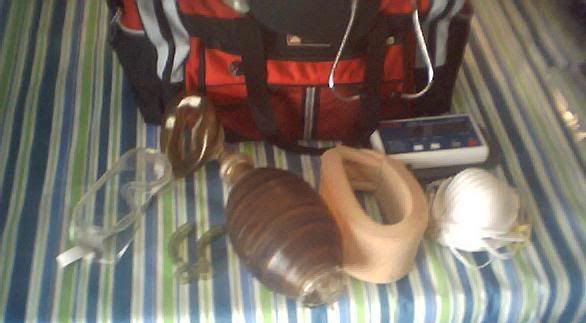 My suture set consists of assorted sutures (2-0, 3-0 chromic), Lidocaine, syringes (not shown), a disposable sterile scalpel, Needle holder, Kelly Clamp Iris scissors, and tweezers, along with a syringe for irrigation
On the Right side of the bag, I keep my trauma supplies. Lots of Kling (you can never have too much), 6x6, 4x4, and 2x2 sterile dressings, several trauma dressings (sanitary napkins), Bandaids, Steri-Strips, Paper Tape, Bandage Shears, and Two old Rx bottles, one with 5 yards of duct tape rolled around it, and Superglue inside, and another filled with Q-tips.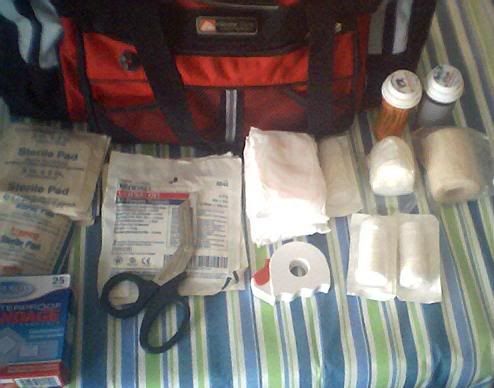 On the opposite side, I keep meds. Alcohol (70%), Betadine (Provodone-Iodine), Chloroflush (wound cleaner), Sterile Saline for Irrigation, Liquid children's Benadryl, and Benadryl capsules, Loperamide tablets, Tylenol, Aspirin, and Ibuprofen. I also keep an epi-pen, albuterol inhalor, a flashlight, and antibiotic cream here. I found room to stash a couple more sports drink pouches, as well.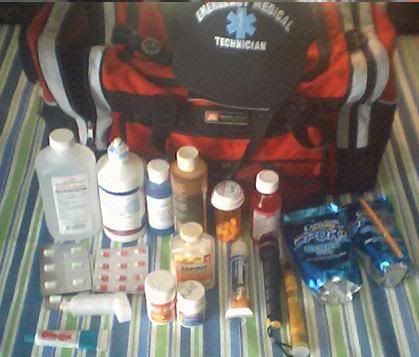 What's missing? Well, all first aid kits are a compromise. There are still a few items I plan to add. A couple of IV bags, with setups (1-.9% Saline, 1- Lactated Ringers), some pediactric airways, and perhaps a combitube airway. I may add a CPR mask, too. Although with the ambu-bag, that's probably redundant. A SAM splint would be a nice addition, too. And I need to get a couple of Triangular (cravat) bandages for the trauma side. All totaled, this kit weighs in at about 20lbs. It balances nicely, and it has virtually everything I would need to handle most emergencies